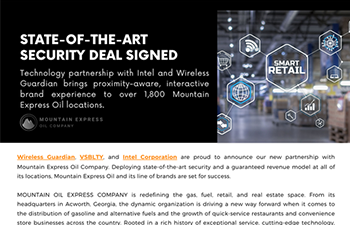 State-of-the-Art Security Deal Signed
City watch Digital,
VSBLTY
, and
Intel Corporation
are proud to announce our new partnership with
Mountain Express Oil Company
. Deploying state-of-the-art security and a guaranteed revenue model at all of its locations, Mountain Express Oil and its line of brands are set for success.MOUNTAIN OIL EXPRESS COMPANY is redefining the gas, fuel, retail, and real estate space. From its headquarters in Acworth, Georgia, the dynamic organization is driving a new way forward when it comes to the distribution of gasoline and alternative fuels and the growth of quick-service restaurants and convenience store businesses across the country. Rooted in a rich history of exceptional service, cutting-edge technology, and solid relationships with customers and key stakeholders, Mountain Express Oil Company is fast emerging as a catalyst for change, creating momentum and exciting economic opportunities in communities throughout the United States.
Using Edge and City Watch Digital solutions, Mountain Express Oil locations can now enhance the guest experience with proximity-aware, interactive brand messaging triggered by demographic, identity or even sentiment, while simultaneously gaining groundbreaking levels of measurement and actionable insights — in addition to real-time world-class security and monitoring. Read more on thewirelessguardian.com.